About
Geometry lies at the core of the architectural design process. It is omnipresent, from the initial form-finding stages, to novel manufacturing techniques, to the construction, and to post occupancy monitoring. But the role of geometry in architecture and engineering is also continuously evolving.
Geometry increasingly plays a role in modeling environments and processing sensing information. Modern geometric computing provides a variety of tools for the efficient design, analysis, and manufacturing of complex shapes. Besides descriptive geometry controlling form, algorithmic processes play a crucial role in integrating disciplinary input.
On the one hand this opens up new horizons for architecture. On the other hand, the architectural context also poses new problems to geometry. Around these problems the research area of architectural geometry has emerged. It is located at the common border of architecture with applied geometry, computational design, mathematics, and manufacturing.
Conference
Advances in Architectural Geometry (AAG) is a conference where both theoretical and practical work linked to new geometrical developments is presented. It involves architects, engineers, computer scientists, mathematicians, software and algorithms designers and contractors. We aim at connecting researchers from architectural and engineering practices, academia and industry.
AAG has become a reference both in research and in practice and is supported by the direct participation of the most renowned architectural design and engineering offices along with research laboratories.
The symposium is a biennial event. It was held first in 2008 and 2010 in Vienna, 2012 in Paris, 2014 in London, 2016 in Zurich, 2018 in Gothenburg and 2020 in Paris.
In 2023, it will take place in Stuttgart from October 4 – 7, organized by the Cluster of Excellence IntCDC (Integrative Computational Design and Construction for Architecture).
Program
Workshops
Thursday, October 5
09:00 – 12:00 Parallel Workshops 1 – 6
12:00 – 13:00 Lunch Break
13:00 – 17:00 Parallel Workshops 1 – 6
17:00 – 18:30 Presentation workshop results
19:00 – 21:00 OPENING RECEPTION

Conference
Friday, October 6
08:00 – 08:45 Check-In
08:45 – 09:00 Welcome
09:00 – 09:30 KEYNOTE – Sigrid Adriaenssens
09:30 – 10:40 PAPER SESSION I
Andrei Nejur: Structurally Aware Fabrication for Large-Scale Curved Architectural Skins
Lorenzo Santelli: A Generative Approach Towards the Design of a Spherical Structural Envelope
Lawson Spencer: The Finite Element Method (FEM) of the Unlog Tower
Dylan Wood: HYGROSHELL – In Situ Self-Shaping of Curved Timber Shells
10:40 – 11:10 Coffee Break
11:10 – 12:20 PAPER SESSION II
Mohammad Mansouri & Aly Abdelmagid: Corresponding Principal and Asymptotic Patches for Negatively-Curved Gridshell Designs
Moritz Niebler: Bent-on-Site Flat-Pack Delivery of a Timber Shell
Romain Mesnil: Design and Construction of a Pseudo-Geodesic Gridshell
Eike Schling: Asymptotic Geodesic Hybrid Timber Gridshell
12:20 – 12:50 KEYNOTE – Wolf Mangelsdorf
12:50 – 14:00 Lunch Break
14:00 – 14:30 Cluster of Excellence IntCDC – livMatS Biomimetic Shell
14:30 – 15:25 PAPER SESSION III
Daniel Chauhan: Daisy: A Data-Driven Multi-Objective Design Tool
Daria Dordina & Cyrill Milkau: Point Cloud to True-to-Deformation Free-Form NURBS
Keyan Rahimzadeh: Beyond the Hypar: Predicting Buckled Shapes in Bent Glass with Machine Learning
15:25 – 16:20 PAPER SESSION IV
Samim Mehdizadeh: Roll-Locks
Aly Abdelmagid: Design Model for Block-Based Structures from Triply Orthogonal Systems of Surfaces
Tobias Schwinn: Integrative Agent-Based Design Modelling for Segmented Timber Shells
16:20 – 17:00 Coffee Break
17:00 – 18:00 ITECH SESSION*
18:00 – 18:30 KEYNOTE – Janet Echelman
18:30 – 18:40 Conclusion Day One
18:40 – 21:00 GET-TOGETHER
*ITECH SESSION: The Integrative Technologies & Architectural Design Research M.Sc. Program (ITECH) is an interdisciplinary, research-oriented, experiment-based program shaped around contemporary aspects of the built environment and practice. The goal of the ITECH program is to prepare a new generation of students from different disciplines for the continuing advancement of technological and computational processes in development of the built environment through merging the fields of architecture, engineering, construction, computer science and natural sciences. In celebration of the program's 10th anniversary, ITECH students and alumni will present highlights featuring the impact the program has had over the past years.
Conference
Saturday, October 7
08:55 – 09:00 Welcome
09:00 – 09:30 KEYNOTE – Molly Wright Steenson
09:30 – 10:40 PAPER SESSION V
Ayoub Lharchi: A Design Modeling Framework for Multi Material Biopolymer 3D Printing
Seiichi Suzuki: BamX: Rethinking Deployability in Architecture Through Weaving
Seri Nishimoto: Transformable Surface Mechanisms by Assembly of Geodesic Grid Mechanisms
Christoph Schlopschnat: Co-Design of Fibrous Walls for Multistory Buildings
10:40 – 11:10 Coffee Break
11:10 – 12:05 PAPER SESSION VI
Shermin Sherkat: Automated Task Planning for Prefabrication Using AI Planning
Jingwen Wang & Wenjun Liu: Multi-Robotic Assembly of Discrete Shell Structures
Mehrzad Esmaeili Charkhab & Yuxi Liu: Designing for Robotic (Dis-)Assembly
12:05 – 13:00 PAPER SESSION VII
Uday Kusupati: RUM: Reconfigurable Umbrella Mesh
Yuta Shimoda: Developable Membrane Tensegrity Structures Based on Origami Tessellations
Andrea Micheletti: Parametric Design of Tensegrity-Origami Structures
13:00 – 14:00 Lunch Break
14:00 – 14:30 KEYNOTE – Michael Wimmer
14:30 – 15:40 PAPER SESSION VIII
Rupert Maleczek: From Quad Filling to Wrinkled Surfaces
Iman Fayyad: Bending Cylinders: A Geometric Syntax for Zero-Waste Architecture
Lotte Scheder-Bieschin: Curved-Crease Flat-Foldable Bending-Active Plate Structures
Alex Seiter: Form Finding of a Sheet Metal Shell by Generative Design and Pareto Optimization According to the Principles of Structural Morphology
15:40 – 16:10 Coffee Break
16:10 – 17:05 PAPER SESSION IX
Saqib Aziz / Jamie Queisser: SearchField: Navigating N-Dimensional Design Spaces
Sarah Mokhtar: Neural Implicit Fields for Performance-Informed Geometries in Building Design
Demi Fang: Quantifying the Influence of Continuous and Discrete Design Decisions Using Sensitivities
17:05 – 18:00 PAPER SESSION X
Jelena Milosevic: An Approach to Designing Architectural Structures Using 3D Graphic Statics
Hua Chai: Rationalizing Principal Stress Line Networks Using an Agent-Based Modelling Approach
David Forster: Design and Optimization of Beam and Truss Structures Using Alternative Performance Indicators Based on the Redundancy Matrix
18:00 – 18:30 KEYNOTE – Kazuyo Sejima
18:30 – 18:40 Conclusion Day Two

Workshops
Novel ideas on current and emerging topics in architectural geometry, digital design, simulation, artificial intelligence, and manufacturing will be presented and discussed at the AAG 2023 workshops.
Workshops take place prior to the conference on October 4 and 5, 2023.
It is possible to register for one of the parallel workshops independently of the conference.
Workshops
Paper Committee
Sigrid Adriaenssens
, Princeton University
Aleksandra Anna Apolinarska, ETH Zurich
Iro Armeni, CEE Stanford University
Axel Kilian, MIT Cambridge
Tobias Bonwetsch, ROB Technologies
Daniel Bosia, IStructE
Jean Francois Caron, Ecole des Ponts Paris Tech
Jeroen Coenders, White Lioness Technologies
Matias Del Campo, University of Michigan
Bailin Deng, Cardiff University
Philipp Eversmann, University of Kassel
Billie Faircloth, KieranTimberlake
Isak Worre Foged, Royal Danish Academy
Florian Gauss, knippershelbig
David Jason Gerber, University of Southern California
Marcelyn Gow, servo los angeles
M. Hank Haeusler, University of New South Wales

Laurent Hauswirth
, Gustave Eiffel University
Markus Hudert, Aarhus University
Sam Conrad Joyce, Singapore University of Technology and Design
Toni Kotnik, Aalto University
Riccardo La Magna, University of Karlsruhe
Julian Lienhard, University of Kassel
Rupert Maleczek, University of Innsbruck
Romain Mesnil, Ecole des Ponts Paris
Roi Poranne, University of Haifa
Helmut Pottmann, KAUST
Christopher Robeller, Augsburg University
Marc Schnabel, Aurel FORUM8
Bob Sheil, University College London
Paul Shepherd, University of Bath
Martin Tamke, Royal Danish Academy – CITA
Xavier Tellier, Champs-sur-Marne
Oliver Tessmann, University Darmstadt
Martha Tsigkari, Foster + Partners
Amir Vaxman, University of Utrecht

Venue
AAG 2023
The conference, workshops and opening reception take place at the city campus of the University of Stuttgart: University of Stuttgart
Keplerstr. 17
70174 Stuttgart
Socializing Tour: DEMONSTRATOR D1244 and ILEK Tent.
SFB 1244 Demonstrator
Pfaffenwaldring 14
70569 Stuttgart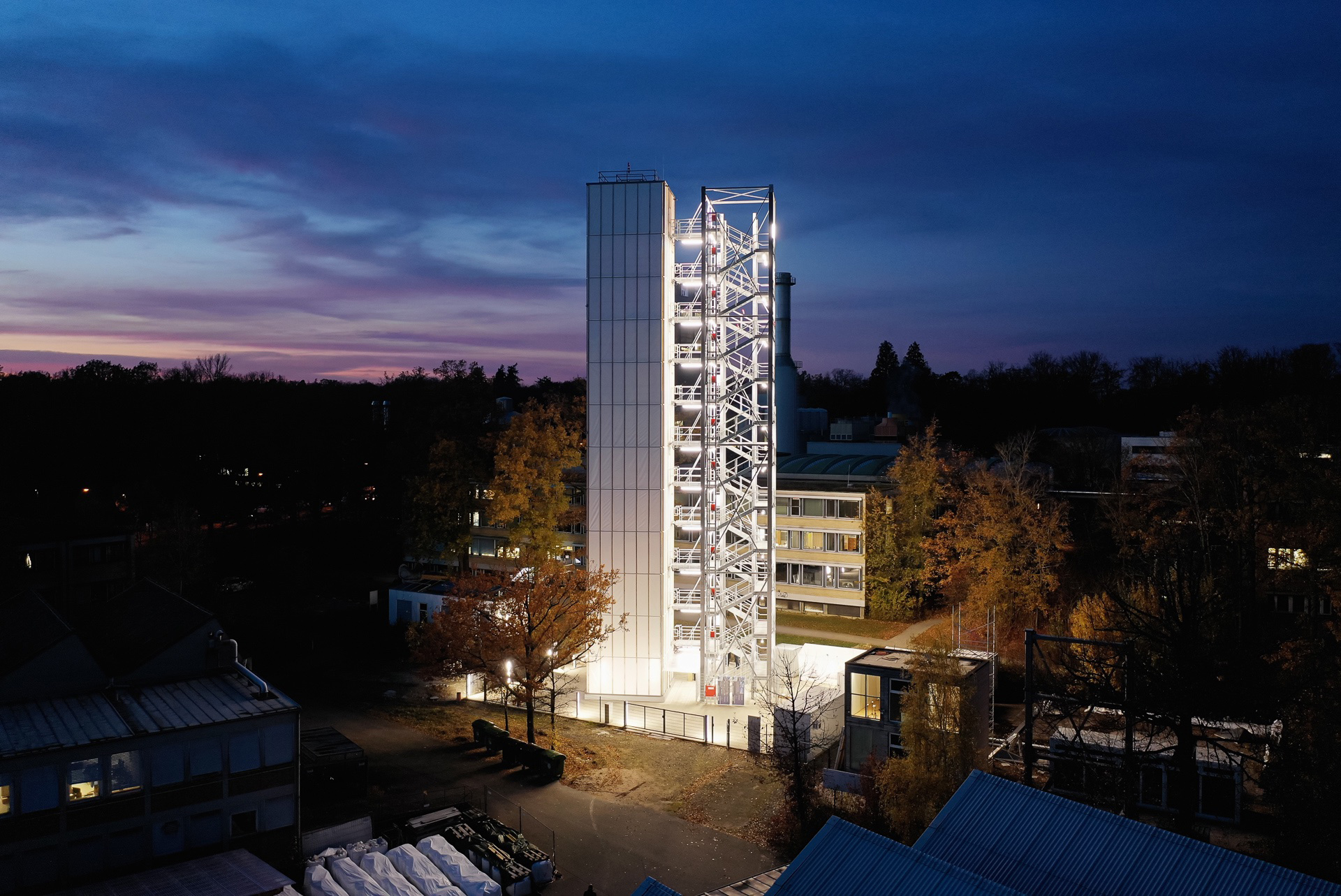 The SFB 1244 Demonstrator High-Rise Building at the blue hour
Photo: René Müller Photographie, Stuttgart
We are here to help and answer any question you might have. Please contact us via e-mail or use our contact form.
Accomodation
Hotel Azenberg
Hotel Azenberg
Seestr. 114 – 116
70174 Stuttgart
Single room incl. breakfast _ 128 € / night
To be booked via email: info@hotelazenberg.de
Code: AAG 2023
Tour
Join us in our socializing tour at the Institute for Lightweight Structures and Conceptual Design (ILEK). In this activity, you will visit the demonstrator D1244 as well as the ILEK tent, learning about their design, structure, functionality and history. The director of the institute, Prof. Lucio Blandini, will greet us with a speech at 17:30 p.m. and at 18:00 p.m. we will go through the structures in a learning journey. After the tour you can stay for a while to share a drink with the other participants or take the shuttle bus back to the city center (public transport is also available near the venue, in case you'd like to stay longer).
Meeting point: between the buildings KI and KII from the University of Stuttgart, campus city center.
Transport: by shuttle bus from city center to campus Vaihingen. The same bus will take you back to the city center after the tour ends.
Date: on Wednesday, October 4, 2023 at 16:00 p.m. (after the last workshop session).
The demonstrator high-rise building, D1244
D1244 is a lightweight high-rise building specifically designed to drastically reduce its consumption of resources as well as environmental impacts. The building components are conceived in a way such that they can be separated and recycled once their service life has been exceeded. The load-bearing structure was designed as a steel frame construction stiffened by a set of cross bracings that span three floors each. As one of the unique features of the demonstrator high-rise, actuators are integrated strategically in some of the columns and cross bracings. Through controlled adjustments of the actuators, the load transfer in the structure can be manipulated and thus structural performance can be significantly improved. 
Throughout the project, existing building components such as floor slabs will either be replaced by adaptive systems or equipped with newly developed actuators and sensors. In order to best capture the behaviour of the load-bearing structure with little influence from non-structural elements, a separate staircase tower has been constructed for vertical access as well as cable routing. The main tower and the staircase tower are separated by a distance of 2.7 m.
The demonstrator high-rise is instrumented by sensors that allow real-time identification of the external disturbances. Employing a closed-loop control system, the load-bearing structure can respond to a wide range of disturbances. For an instance, if the high-rise starts to vibrate under the influence of strong winds, excessive responses can be mitigated. This way, safety and comfort requirements on vibrations can be satisfied without increasing the structure's cross-section sizes.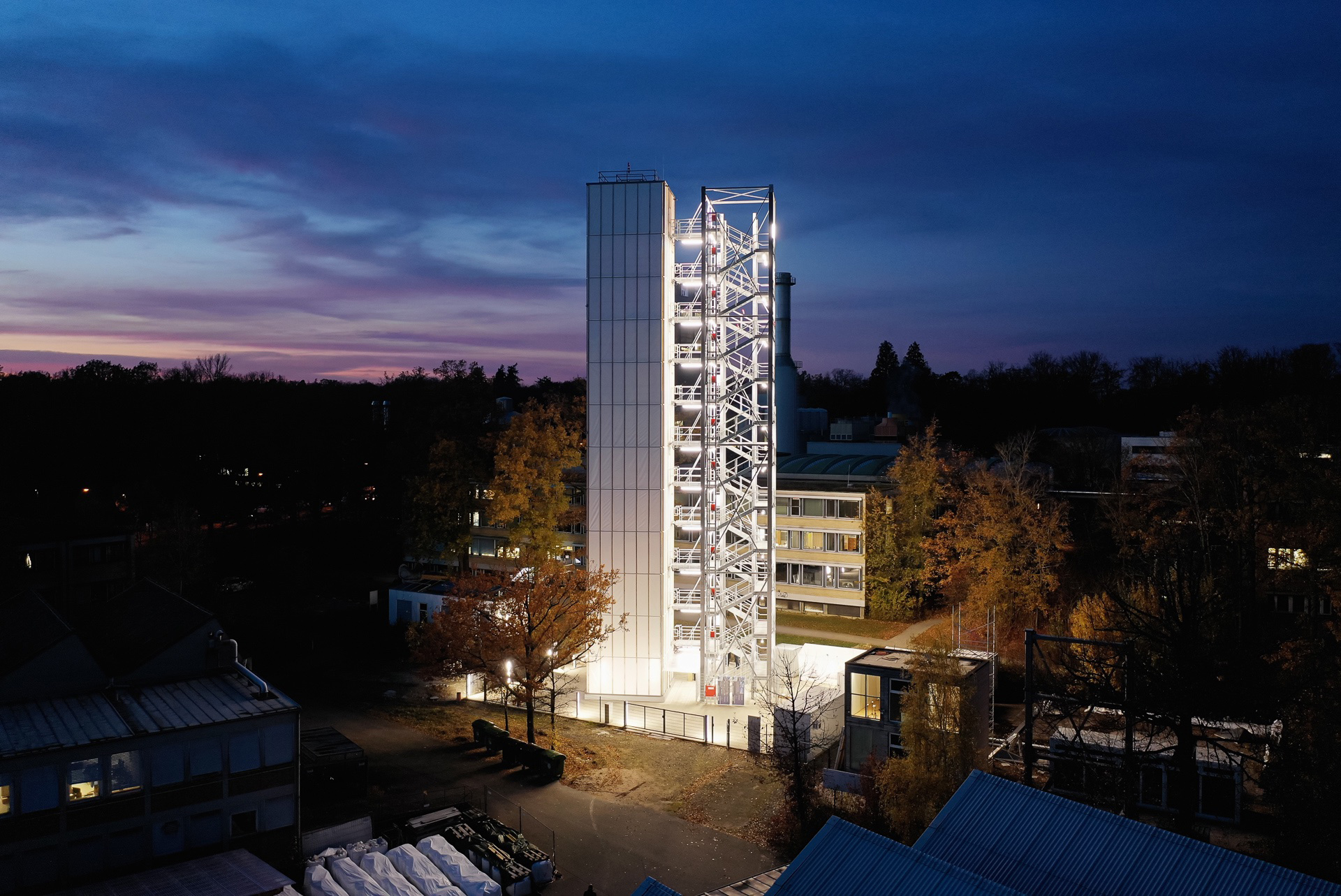 The Demonstrator High-Rise Building at the blue hour
Photo: René Müller Photographie, Stuttgart
The ILEK tent
About the ILEK tent (text from Manuela Brüggeboes)
1964 Competition for the German Pavilion in Montreal won by Rolf Gutbrot, Frei Otto and Peter Strohmeyer.

Form finding: The form originated in a tulle model and was checked after its construction by means of a soap skin model. For design reasons (e.g. connection details, material thickness), the shape deviates from the minimum surface at the high point, since the surface is introduced tangentially at the high point. In order to take dimensions from the model, the model and 'original' must be geometrically similar. This depends on the prestress, so there must be a static-elastic similarity of these two.

1966 Since computer simulations and real reference structures were not available, an experimental building (460 sqm – 1/17th of the area of the Expo Pavilion) was erected on the grounds of the University of Stuttgart, about 2 km from the present location. This involved only the rope net with a mesh size of 50 x 50 cm made of 12 mm stranded spiral ropes completely prefabricated. Extensive tests on vibration behavior, deformation behavior and the like were carried out. It was also used to test assembly and detailing. The assembly was adopted for Montreal. Some of the details had to be further developed.
1967 Expo Montreal
1968 Due to the decision to move the IL from the city center to Vahingen, the test building is moved to its present location. This process takes one day. The perimeter cables are hooked into the prepared foundations and the net was prestressed by erecting the pylon and tightening the guy points. The vertical glass frames of the facade are prestressed to minimize the deformation of the edge rope for the glass panes. The pylon (d=42cm) is supported at the bottom bearing in a 'sand pot'. The entire interior was designed by Frei Otto especially for this building. The roof was covered with Eternit shingles. Underneath is thermal insulation made of mineral wool.
1990 One of Frei Otto's few permanently used tent buildings becomes one of the youngest listed buildings in BW.
1993 Extensive renovation. Roofing, skylight, all-round glazing, electrical and sanitary installations, heating and flooring are renewed.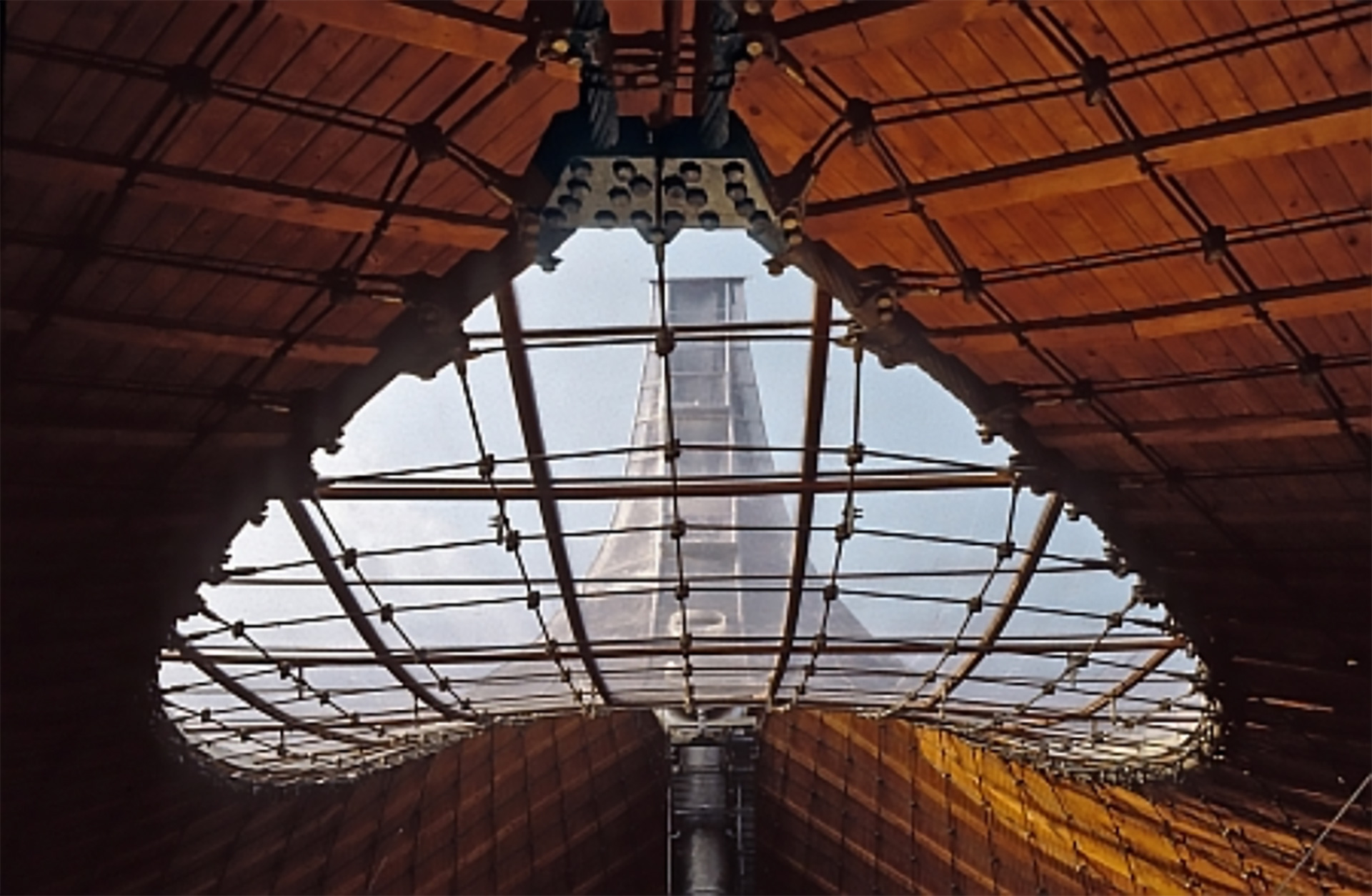 The ILEK tent
Photo: ILEK